Yes, it's true! Miskatonic River Press' latest release, Tales of the Sleepless City, is now starting to get into the hands of people as i type this. It should be winding its way to distributors (and then, your FLGS) any day now. Comprised of such acclaimed authors as Dan Harms, Scott David Aniolowski, Tom Lynch, and Oscar Rios, this book features adventures all taking place in New York City, during the Classic era. Get it! It's damn good! You can order your copy by heading to MRP's website here.
Now, you may be asking yourself, what the hell's going on with this card game you keep babbling about from time to time? Well, i'm still neck deep in the art. After the clean up was done, i've had to go back and redo all the colouring, as well as do further clean up of the line work i originally did. It's a long process, and one that i can get to in between other (i.e., paying) design work. To give you an example of what needs to be done, i essentially need to take scans of the original work i did, like this: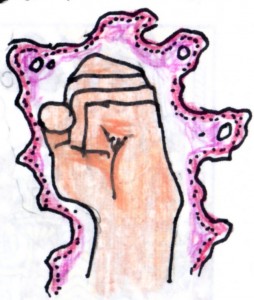 And turn it into something more like this: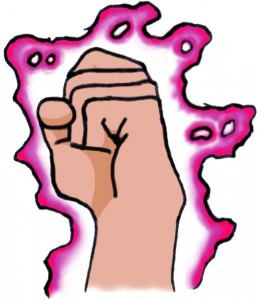 It's not terribly difficult, mind. It just takes a long time to do, and get right. And there's a *lot* of art to get done. I think i've mentioned it before, but there's about…80 pieces that need to be done in total. Some of which i need to go back and start over from scratch, as the original art is just too crappy for my tastes.
So…that's where i'm at with Feed the Shoggoth!. Got a ways to go, but i'll continue to post progress here as it happens.