When I began the process of designing Call of Cthulhu 7th edition, I had it in mind from the start that two rules i needed to follow were to be paramount. One, that the book be easy to read; and two, that the book be easy to navigate and quickly find information. There had been a lot of talk in different circles about wanting CoC 7th ed to look like this, or look like that, and as a fan myself, it was easy to fall into the mindset of "Yes, I want to look as amazing as possible! Full color everything! Cool things everywhere!" But one thing (out of many, many things) that Lynn Willis taught me is that form should never supersede function. The primary job of a rulebook is to disseminate information in the quickest and easiest manner possible. Everything else is fluff. And if that fluff gets in the way, then I'm not doing my job right.
So I did a bunch of research. I looked at several iterations of Call of Cthulhu, from the first edition all the way up to 6th. I looked at the Spanish and French editions, as well. Each version had their strengths and weaknesses that I took note of. I then went outside Call of Cthulhu and the horror genre entirely and looked at other rulebooks that had come out in the last few years. The gaming world has advanced a lot since Call of Cthulhu 6th edition, with a ton of new artists and designers introducing new ideas and concepts into how rulebooks should look and function. What had they done right? What had they done wrong? I looked at titles such as Godlike, Pathfinder, Eclipse Phase, Kerberos Club, The One Ring, Hollow Earth Expedition, and others for inspiration and object lessons.
One thing that stood out to me was that, with a book as massive as this, easy navigation through the book was going to be really important. I hit upon the idea early on that I wanted to incorporate some sort of icon system that would give distinctive visual cues to the reader when flipping through the book. In addition, I borrowed an idea from Eclipse Phase in which the two columns of text really standing out from the page:
As you can see in the above example, the icon navigation idea really didn't work. The page is way too busy with icons, symbols in the background, splashes of blood, graphics at the top of the pages…the main text just gets lost, even with the highlighting. You can see also that the font for the headers is an early attempt of a tome-like feel that didn't quite work.
Some things were kept, however, as we'll see in a bit.
The main page background has been toned down greatly, and all but one of the icons show up on the page now. I wanted to have notebook pages and scraps of paper used for boxed text and other highlighted sections; you can see one example of this above. Still, too cluttered.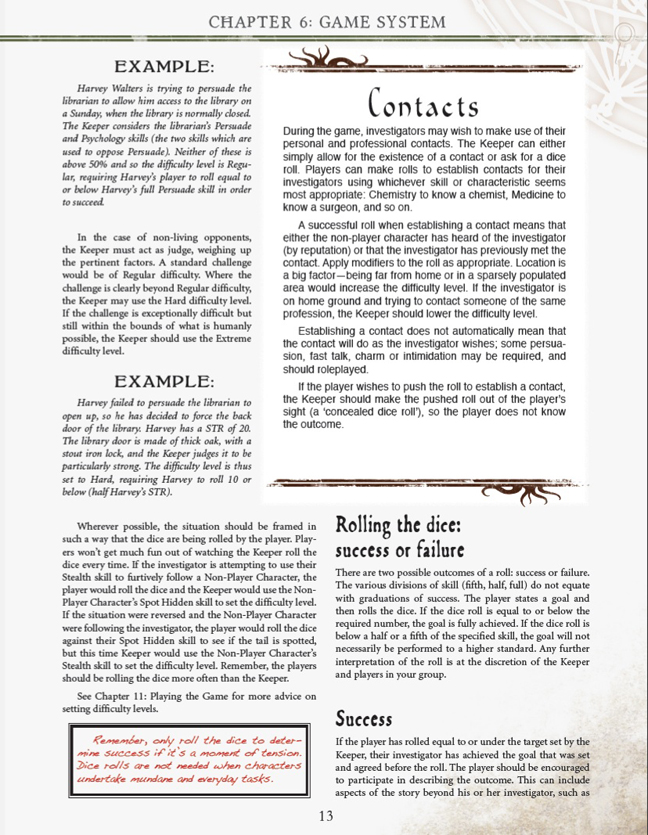 After some more feedback, things start to change pretty radically. Borders have been placed for most of the boxed text, as well as all the page headers. The main page backgrounds have been toned down even futher, with arcane symbols in the upper corners, and distressed looks in the lower corners. Obviously, the red sidebar text didn't really work. Header fonts are still very much in flux (i went through so many fonts throughout the evolution of the book, it's not even funny).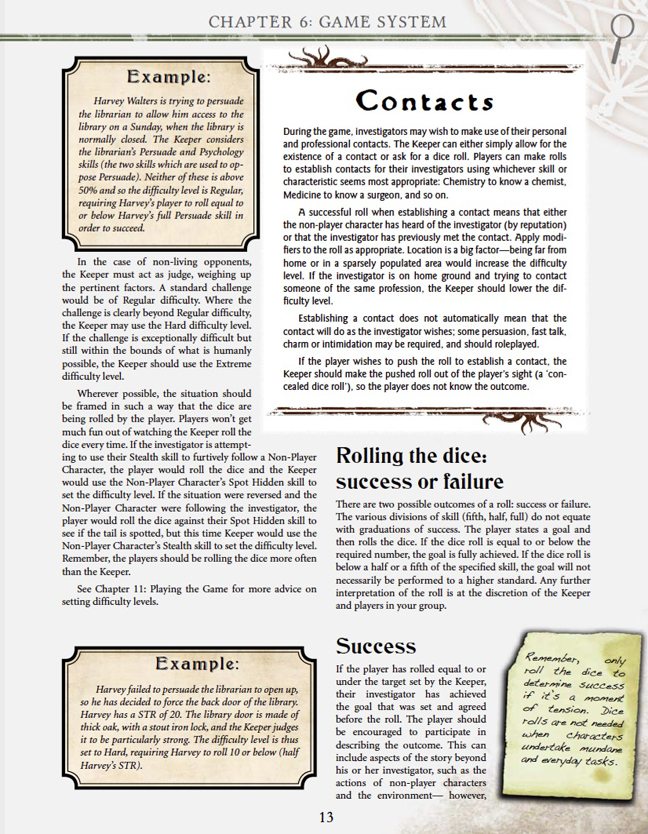 Amazing what one font will do for a book…once i introduced Cristoforo, it all really started coing together. Example boxes have been made. And, for the separate boxed text, you can see how i borrowed from my idea back in the first example of the highlighted box for the main text. Goes to show you that you should always hold on an idea; you never know when it might work for something else! The illuminated letter at the beginning of each chapter, as well, has been kept from the earliest iteration (and, later on in the process, colored for effect).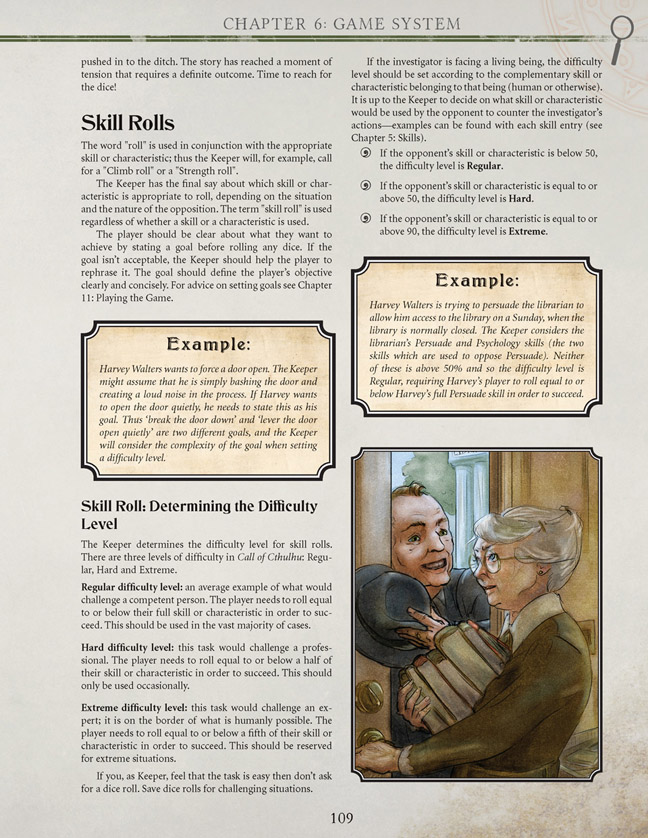 And now we see the near-final look and feel of the design. The size of the header font has been dropped significantly (in some places, it was just huuuge), the page background have been darkened just a bit, and it all just looks…cleaner. One side benefit of using the Cristoforo font by Thomas Phinney is that he included some terrific Lovecraftian glyphs, some of which i was able to use for bullet point lists. Example boxes have been refined, and space in general has at once been tighened up, and expanded as need be, to give the text space to breathe.
One last example after further polishing. Old photo borders have been added to the pictures, the "Example" headers in the Example boxes have been taken out (to conserve space), and general tightening up.
So there you go! It's been a very long evolution, one that doesn't happen in a vacuum. What you see here is the result of months of tweaking, refining, getting feedback, doing further tweaking, more feedback…until we reach something that we can all be happy with and proud of. And this is but a taste of the many, many versions of the core book that we went through; these screenshots highlight only a small sample of them.
Thanks for reading!