Last month, i had the pleasure of attending a small horror RPG convention. While i've been running Call of Cthulhu for years and years, it's really only at cons where i actually write original material; in my regular campaign, i almost always run pre-written adventures. So, for this convention, i got a bug in my bonnet about writing a scenario set in the Wild West. Previous adventures that i've done have covered modern day, the 1950s, World War II, and of course the 1920s, but i'd never done anything in the Western era. I'd been partially  influenced by my friend Dovi, who ran this utterly amazing scenario early last year.
Naturally, as a huge prop geek, i wanted to do more than just the typical character sheet. I did a search online, of course, and found one that was done by the Mad Irishman for Worlds of Cthulhu #2. It looked great, but it wasn't quite what i was looking for. I wanted a booklet, something really tangible that my players could sink their teeth into. A friend of mine suggested that i make it in the style of an old playbill. Eureka! That was the inspiration i needed, and off to InDesign i went…
I thought it might be cool to make that booklet available for people to use, if they want to, so i'm offering up some files for free download. Some things of note:
You'll notice that the pages might look a little out of order. This is done so that you can print the booklet double sided. For example, the page that has "One Night Only" is meant to be the front cover; the Gear and Weapons page would appear on the back. "The Main Cast" would be the inside front cover, and so on.
You'll want to print these out in landscape mode, on two normal 8.5″ x 11″ pages. I used some special marbled paper from an office supply store to get more of an old timey look.
There are a few skills listed, and Draw! rules, from Worlds of Cthulhu #2. I know it's out of print, but if you can track that book down, i'd advise it. I think it's all self-explanatory, though.
I've made most applicable fields editable, but please note that it's my first time doing so, so please let me know if i can improve on the pdf.
The "Ace in the Hole" is a house rule i came up with just for the scenario. Each of the six characters has a secret, heroic ability they can use, mostly just once per game. You can read an example of this in August Black's character booklet.
I think that's it. Here's an example of what the front and back covers look like: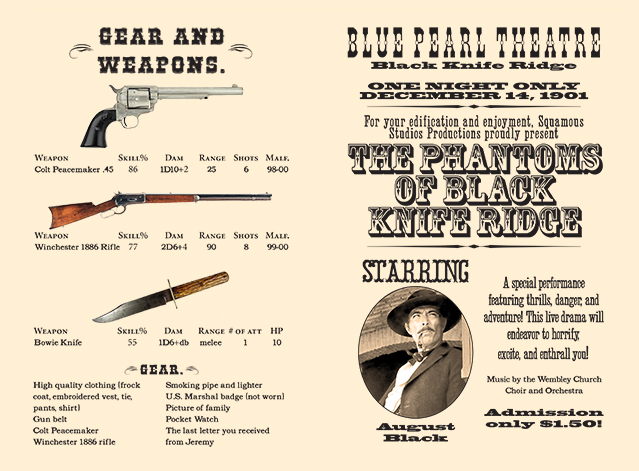 Here's the link to the editable pdf: Blank Wild West CoC Char Booklet
And here's where you can download an example of how the final booklets looked: August Black.pdf
Enjoy!
-=Badger