The 50th annual GenCon rolled around this past week, and Stygian Fox had been nominated for two awards: Best Adventure, and Best Electronic Book. We found out Friday that The Things We Leave Behind won for Best Electronic Book! I'm so proud of this award, on so many levels; Stephanie busted her ass to get this project off the ground, wrangled all the amazing authors and artists together, and worked long hours to get it out. Oh, and not to mention the maps. The writers were amazing, some of the best i've ever worked with. And Stephanie basically gave me free reign to design the book how i wanted to. For our very first book to nab two nominations, and a gold ENnie…that's pretty damn amazing. Between this and the 2012 gold for Cthulhu by Gaslight, i feel confident in calling myself "award-winning graphic designer" :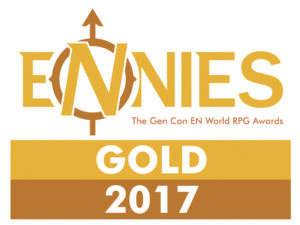 So, then. With the afterglow of that award, i'd like to give two updates:
NecronomiCon: The largest HP Lovecraft convention in the world took place this last weekend, and it was a blast. This marks our third time in attendance, and again, it didn't disappoint. We sold out of all of our copies of Feed the Shoggoth! (a big, big thanks to Arkham Bazaar in that regard), the two sessions of the game went great (with two simultaneous games springing up!), a good amount of networking, and seeing friends new and old made it once again a stellar convention. I already can't wait until 2019.
Books: We've decided to move Hudson & Brand to the top of the design queue, so i've been working on that project pretty much exclusively at the moment. Plans are that, once H&B is completed, i'll move back to working on Fear's Sharp Little Needles, which is already well on its way. After that, i believe Distant Realms will be next (again, with a good amount of work already having been done on it).
Besides all that, i still have plans to do an expansion or two for Feed the Shoggoth!, and 2018 sounds like it's going to be a huge year for Stygian Fox. The Fall of Delta Green book has been on hold temporarily, awaiting approval on various things from Arc Dream. Once i know about that particular project, i'll definitely post an update on that.
Be seeing you,
-=Badger